Total Body Enhancement At Planet Fitness – A Complete Guide
If you are after weight loss or fitness, chances are that you have already heard about Total Body Enhancement by Planet Fitness. It is a newly introduced program in the gym and fitness industry that has created a lot of buzz.
If you are after weight loss or fitness, chances are that you have already heard about Total Body Enhancement by Planet Fitness. It is a newly introduced program in the gym and fitness industry that has created a lot of buzz.
Planet Fitness offers the service to revamp the overall gym experience and deliver added benefits to those who are interested in shedding extra pounds or toning their body.
The Planet Fitness group adds the advanced equipment to their gyms to let users get a little more out of their efforts at the gym. In this guide, we take a closer look at this product and try to understand what it offers and whether it can help you achieve your fitness goals.
What is Total Body Enhancement?
A body enhancement booth, Total Body Enhancement is a therapy machine that helps burn fat from the body. The booth is developed by 'Beauty Angel' and installed at Planet Fitness gyms. It is called a therapy booth because it delivers great results instantly. The machine has red light therapy panels on the walls and a vibration pad. It does not use UV light and therefore causes no harm to the skin and body.
Total body enhancement booth consists of red light tubes on all the sides to emit red light on the body. The machine is fully enclosed to ensure privacy. It also has a ventilation facility which keeps the user cool during warm months. It also comes with an MP3 player connection so that users can enjoy music while using the machine.
The machine uses Vibra Shape technology that increases muscle activity and enhances blood circulation in the body. The light energy is an extra to benefit from. The platform-based vibration pad tones the entire body and reduces stretch marks, cellulite and other imperfections on the skin. It also enhances skin tone. The machine also promotes weight and fat loss in the body.
How Does Total Body Enhancement Work?
This product uses the red light therapy which is not harmful to your skin or body. This booth combines red light therapy with body vibration to deliver a wide range of benefits.
Red light therapy helps reduce fat and weight by targeting the body cells storing the fat and stimulating them to release fat.
The machine emits low-light frequencies of red light which penetrate through the skin and help boost the process of rejuvenation and recovery by increasing the blood flow.
This would result in improved tone and texture of the skin. It also helps reverse the signs of aging. You can achieve wrinkle-free, firm skin with the use of red light therapy.
The whole body vibration from the platform spreads energy through the body, which in turn, leads to muscle contraction and relaxation at a great speed. This feels like a workout to the body.
This vibration increases the metabolic rate in the body and delivers benefits of a moderate workout. The vibration can be adjusted using the settings to suit your preference.
How To Use Total Body Enhancement?
The total body enhancement machine can be used whenever you want at the Planet Fitness gyms. Trainers advise using it 2-3 times for 10-12 minutes each. It is a great addition to any workout routine and can be used before or after exercise.
The machine provides low-impact muscle toning and is great for warming up before workouts. When used after a workout, the machine effectively reduces inflammation and soreness in the muscles and relieves the joints. It helps heal the body after heavy weight lifting and intense cardio workouts.
Total body enhancement gives a massage to the entire body and keeps your body active for a long time. You get the benefits of walking on a treadmill without doing anything.
It can also be used as a standalone session to avail benefits like relaxation, muscle toning and core strengthening. It also works on skin improvement at the same time.
Using the machine is pretty straightforward and simple. It can be used on your own without any professional help.
1. Press the Start button on the remote.
2. Press the white button on the left to activate the foot pad.
3. Select one of the four intensity programs using the + button.
4. Once you have selected the setting, let the LED screen clear.
5. To turn on the fan, press the button on the right side until you see the fan light. You can adjust the fan's speed to your liking and the fan will keep you cool during the session.
Benefits of Using Total Body Enhancement
The total body enhancement machine offers a number of benefits. It helps tone the body and enhances the skin complexion. You feel healthy by using this booth. It also works on the skin to reduce signs of aging and other problems. It can help you make the skin look better and radiant.
Total body enhancement at Planet Fitness helps you burn fat and lose weight effectively. It also improves your body structure and reduces joint pains.
There are no known adverse effects of this machine if used correctly. It improves the overall health and fitness of the person without having to workout.
The booth increases the body's ability to burn fat and helps gain more energy before and after a workout.
It results in decreased cellulite, reduced appearance of stretch marks and wrinkles and improves the elasticity and tone of the skin. It improves the blood circulation and gives relief from inflammation, muscle soreness and joint aches.
Final Words
Total Body Enhancement at Planet Fitness is one of the best programs introduced to benefit in multiple ways. This booth can be used anytime by anybody to benefit the skin as well as the body. It works perfectly for those who want to lose weight.
It also helps get the perfect skin without having to use any chemicals. If you use the machine on a consistent basis, you can reap the long-term benefits it offers and achieves your health and fitness goals.
How Does Cardiorespiratory Endurance Affect Physical Fitness?
How does Cardiorespiratory endurance affect physical fitness? In brief terms, it refers to how the lungs, heart & muscles deal with exercise.
When it comes to analyzing the physical fitness of a person, one of the most relevant aspects is cardiorespiratory endurance because it affects your ability to move and perform well. It is a measure of the person's overall physical health. It refers to how the lungs, heart and muscles work together during moderate to intense exercise, but how does cardiorespiratory endurance affect physical fitness?
In this post, we discuss what exactly cardiorespiratory endurance is, how it affects the physical fitness of a person, what its significance is and what you can do to improve it.
What Is Cardiorespiratory Endurance?
Cardiorespiratory endurance is a measure of how well the body performs during extended exercise periods. In simple words, a person with high cardiorespiratory endurance can sustain intense exercises for a longer period without getting exhausted. Improving it can benefit a person in many ways.
Cardiorespiratory endurance is actually an indication of how fit and healthy a person is. It measures the level at which the heart and lungs work with the muscles during some type of physical activity.
In other words, it measures how efficiently the heart pumps oxygen from the lungs through the blood vessels to the muscles in the body.
To have high cardiorespiratory endurance, your heart should be fit, lungs healthy and muscles active on a regular basis.
This consideration is much more than just muscular endurance and cardiovascular fitness. It is the analysis of how the heart, lungs and muscles work with each other.
The measure of cardiorespiratory endurance of a person directly affects his ability to perform physical activities and the overall physical fitness.
Why It Is Important For Physical Fitness?
Cardiorespiratory endurance is one of the most important factors indicating the physical fitness of a person. This is because it affects aerobic power or VO2 Max. VO2 Max is the ability of the body to use oxygen. Improving the cardiorespiratory endurance affects your VO2 max or maximal aerobic power.
Your body's ability to use enough oxygen and deliver it to different organs will increase to meet the demands of your muscles. If your body can use a bigger volume of oxygen during exercise, you can perform faster and longer.
Improving the cardiorespiratory endurance also improves the body's ability to burn fat. It enhances the aerobic system in the body to be able to perform aerobic activities that need oxygen.
Some of the most common examples of this type of exercises include cycling, running and swimming. With an improved aerobic system, you become more capable of burning fat, lose extra fat and become fit.
The measure of cardiorespiratory endurance is important for everybody, not only professional athletes. Those who are trying to lose weight should focus on improving their cardiorespiratory endurance as they can easily burn calories by performing high-intensity aerobic activities.
Moreover, research suggests that having an improved cardiorespiratory endurance provides a plethora of health benefits like reduced risk of cardiovascular diseases and high blood pressure.
How Cardiorespiratory Endurance Affects Physical Performance?
Muscles in the body need oxygen all the time but they need more when we train or are physically active. The heart, lungs and blood vessels function together to make sure muscles have enough oxygen available. Cardiorespiratory endurance is a term that suggests dealing with both respiratory and cardiovascular systems.
While the cardiovascular system keeps the heart beating and pumps blood throughout the body, the respiratory system enables us to breathe.
By improving the cardiorespiratory endurance, your body is able to carry more oxygen to different parts. This would increase the number of red cells in your blood. The heart becomes stronger, pumps larger amounts of blood and distributes oxygen better.
The performance of these two systems is directly related to your physical performance. The slower they perform, the tougher it is for your heart and lungs to pump the oxygen around the body.
This eventually affects your performance as you need more energy to pump the blood and so perform much slower and get tired too fast.
How To Boost Cardiorespiratory Endurance?
You can improve your cardiorespiratory endurance by exercising on a regular basis. If you are not physically active, you can start with moderate exercises for 60 minutes per day for 4-6 days per week.
If you indulge in high-intensity training, 30-40 minutes of exercise is sufficient. You should always try to push yourself to progress your performance.
You should keep increasing the difficulty of your cardio or aerobic activity to be able to improve your cardiorespiratory endurance.
Adding variations to the workouts is also important because it pushes the body and ensures all your muscles groups are trained. This will also push your heart rate whenever you exercise.
A variety of exercises can be included in your daily routine in order to boost your cardiorespiratory endurance. A number of different types of activities can help improve your performance.
However, the best cardiorespiratory exercise is the one that raises your heart rate and gets you sweating. Some of the best options include,
Burpees
This is one of the best exercises you can do at home to boost your cardiorespiratory endurance. It is a simple strength training exercise. Stand with your feet shoulder-length apart. Descend into a squat position with the hands on the floor.
Kick your feet back so that you get into a plank position. Then lower your chest to the floor while keeping the arms close to your body. Push up with the hands and jump the feet forward.
This makes one repetition. Burpees involve all the muscles in the body and this is why it can benefit the cardiorespiratory system.
Biking
A popular physical activity across the world, biking or cycling not only trains a lot of muscles but also works for cardiorespiratory endurance.
It is a simple cardio exercise that anybody can do with ease. It is also inexpensive.
Jumping Jacks
We all know that jumping jacks are great for lungs and heart. Jumping jacks are effective at improving the strength of your cardiovascular and respiratory systems.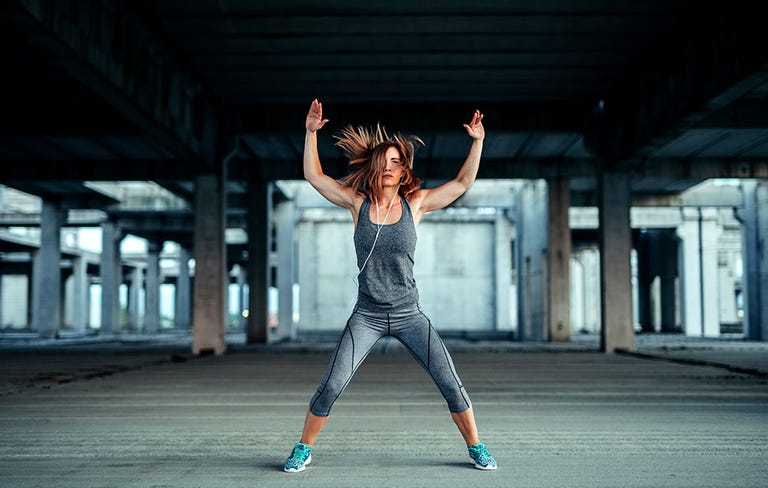 To do this exercise, keep your feet together and arms on the side. Jump and land with your legs wide open and hands touching together over the head. Then jump again and return to the starting position.
Apart from these, there are numerous exercises and activities that work on improving cardiorespiratory endurance. You can try running, swimming, dancing, water aerobics and other simple activities along with exercises like side hops, hopping squats, mountain climbers and high-intensity training.
Why is it important to understand the different types of health professionals
Why is it important to understand the different types of health professionals. In this guide, we cover different types of professionals & what they do.
The healthcare industry has grown tremendously with the progress in medicine and other related areas.
Thats why we are going to have a look at why is it important to understand the different types of health professionals.
The explosion of knowledge and applications in the field of healthcare has warranted the creation of silos and specialization, resulting in various different types of health professionals with in-depth expertise in a narrow range of topics.
Today, medical care is not just limited to curing an injury or illness. It now covers prevention of illness, management of chronic conditions and delay of aging impact.
A large number of health professionals work in different healthcare areas and the number is growing constantly. These professionals have different education, license and skills to practise in the specific area.
You may need different types of practitioners and other health care workers during your life. While you may not come across every type of professional in the industry, it is important to know what they are and what they do.
Understanding various categories and subcategories of health professionals working at hospitals, public health institutions, health care centres and private clinics lets you identify who you should approach to treat a specific condition.
Knowing their roles also helps you choose the best combination of professionals for some health conditions to treat them well. Now that there are so many choices available, it is more important than ever to be informed.
After all, this information guides your choice to take care of your health and make the most of your money spent on health care services.
In this guide, we look at different types of health professionals and their roles to better understand who does what and who you should consult for what type of health service.
Doctor or General Practitioner
A GP or a local doctor is the main point of contact for most people for their health concerns. Doctors are the primary care providers. While there are different types of doctors, the one we call 'doctor' is a physician or general practitioner.
A physician studies medicine for years and acquires sufficient experience before practicing as a doctor. We approach them for first-level diagnoses of medical conditions and treatment of normal problems like flu, colds and injuries.
General practitioners work in different types of health services including private clinics and medical centres, hospitals and community health services. A GP is the best professional to maintain your overall health and wellness with medical scans and blood tests.
The primary care doctor can also give mental health advice and refer to medical specialists for conditions that need further attention. They also take care of vaccination and children's health. Some physicians specialize in areas like family practice.
Here are some of the more specialized primary care doctors available for different types of general health care.
Family Practice
Family practice physicians treat all the members in the family regardless of the age. They possess a broad medicine training that allows them to treat adults as well as children.
They are capable of treating a wide range of medical conditions and focus on disease prevention, taking care of the overall health.
Internal Medicine
An internal medicine physician is very similar to a family practice professional but treats only adults.
They can be trained in general medicine as well as specialities and can treat more serious medical problems in adults.
Pediatricians
These doctors are specialized at treating children from birth to up to their young adulthood. These professionals are primary care physicians for kids and they are trained in vaccines, prevention of diseases in babies and children and treating common injuries and illnesses.
Paediatricians help diagnose various medical conditions in infants, babies, children and adolescents.
They perform regular checkups of kids for health and wellness. Some paediatricians specialize in critical care and work in critical care units in hospitals to treat children with critical health conditions.
Geriatric Medicine
Known as geriatricians, geriatric medicine doctors plan and coordinate the health care of elderly or disabled.
These professionals are primary care doctors who have specialized in preventative care of older adults, diagnosis and treatment of conditions affecting the elderly and the process and impact of aging.
Apart from doctors, geriatric medicine professionals include nurses, pharmacists, managers and caregivers who focus on the health care and other needs of the elderly.
These professionals are involved in improving their quality of life and maintaining independence as long as possible.
Medical Specialist
Sometimes your general practitioner may refer you to a specialist doctor for more specific health problems. Medical specialists are professionals who specialize in specific medicine areas.
A medical specialist becomes a part of your healthcare team if you are suffering from a long-term or chronic medical condition.
While general practice is also a specialization, your GP recommends a specialist for the condition that is affecting your health.
These specialists have acquired a degree in the specific medical discipline or area of health. Some of them undertake further training to become more specialized in the particular area.
Here are some of the most common medical specialists you can consult depending on your medical condition.
ENT – EARS, NOSE AND THROAT
An ENT specialist is a doctor who treats disorders and conditions affecting the inside and around of ears, nose and throat.
This type of health professionals is also called an otolaryngologist. Your general practitioner can refer you an ENT doctor if you need one.
ENT doctors generally treat patients with chronic conditions like balancing problems, hearing impairment or ringing in the ears. They are also trained at treating acute conditions such as ear infections and perform surgeries for ears and sinuses.
An ENT specialist can help you with problems in ears, neck, head, tonsils, sinuses, throat, mouth and surrounding areas. Some of these professionals can take additional training to specialize in small areas like nose and sinuses.
Dermatologist
A dermatologist is a medicine specialist who focuses on the treatment of disorders and conditions affecting the skin, hair and nails. These professionals can help people treat conditions such as hair loss, acne, psoriasis, eczema and more.
Among other things, a dermatologist can perform an examination to check for any signs of skin cancer, perform surgeries for cancer and other reconstructive surgeries for scars.
Some dermatologists even offer cosmetic treatments like Botox injections, dermal fillers, laser hair removal and chemical peels.
You may see a dermatologist for a skin condition that needs more specific treatment than your GP can offer. You can also consult this specialist for annual skin checks if you have a family history of skin cancer.
Neurologist
A neurologist specializes in the brain and can diagnose and treat illnesses related to brain function such as Dementia, Parkinson's, Alzheimer's and others. This type of doctor treats conditions associated with the brain, spine and nerves.
People also consult a neurologist for conditions like migraine, stroke, multiple sclerosis, neuropathy, anxiety and depression.
A neurologist can analyze, diagnose and treat conditions affecting any of the body functions including your ability to walk and talk.
Those who have had a stroke often visit a neurologist for their recovery. They can treat pains, seizures as well as migraine headaches.
Gastroenterologist
These types of health professionals are focused on treating disorders and ailments of the digestive system. Gastroenterologists treat problems in liver, pancreas, esophagus, stomach, colon, gallbladder and small intestine.
Gastroenterologists are also trained to perform various diagnostic procedures like colonoscopy, endoscopy and more. You can see them for ulcers, abdominal pain, jaundice, diarrhea or cancers in any part of the digestive system.
Allergist
They are also called immunologists who focus on treatment and prevention of allergic conditions.
These health professionals are often consulted for different types of allergies like food allergies, insect sting allergies and immune system disorders like eczema and asthma.
Infectious Disease Doctor
This type of specialist doctors diagnose and treat different types of infections in any part of the body including tuberculosis, AIDS, HIV, fevers and more. They can help treat diseases and conditions which are contagious.
Infectious Diseases specialists treat bacterial infections, parasite infections, influenza and infections after surgeries.
Gynecologist
These professionals provide diagnosis, prevention and treatment for female health problems. Gynecologists take care of female reproductive health, infertility, menopause, pregnancy, cancer prevention and diagnosis, delivery and breast care.
Most women see a gynaecologist throughout pregnancy and for delivery. You can also expect to see this type of doctor for regular tests and checkups like Pap tests and breast examination to detect early signs of cancer.
Ophthalmologist
Ophthalmologists are specialists in eye and vision care. These professionals focus on the treatment of diseases involving eyes and can even perform eye-related surgeries. They also specialize in treating eye injuries and cancers.
People with complex eye conditions see this doctor for routine eye care. They can prescribe corrective glasses and treat diseases like glaucoma and cataracts.
Cardiologist
These health professionals specialize in diseases of the cardiovascular system that comprises blood vessels and heart.
Cardiologists treat conditions like cholesterol, high blood pressure, stroke and heart attack, heart failure and others.
They can perform various tests and procedures associated with the diagnosis of heart problems. But they don't perform heart surgeries.
Urologist
Urologists are aimed at treating conditions related to the urinary tract in males and females.
These professionals can also help with male reproduction problems. Urologists often specialize in specific areas like male infertility or female urology.
Pulmonologist
These professionals focus on treating diseases of lungs and heart. Pulmonologists often work in hospitals to provide life support or ventilation. They also serve in clinics and hospitals to treat lung conditions, breathing problems and allergies.
Psychiatrist
A health professional who specializes in treating mental health problems, psychiatrists serve people through hospitalization, counselling, medication and other treatment options. Psychiatrists can be further specialized in specific areas like addiction or adolescent mental health.
You can see a psychiatrist if you are experiencing stress, fear, worry, anxiety, depression, memory problems, insomnia and other sleep related problems, out of control drug or alcohol use and more. A psychiatrist can treat childhood conditions like autism, anxiety and intellectual disability.
Oncologist
These specialists treat different types of cancers and the associated symptoms. The healthcare team for a person diagnosed with cancer consists of different types of healthcare professionals.
Oncologists often take specialized training in specific types of cancer, specific treatments, cancer-related symptoms and more.
Rheumatologist
A rheumatologist is a specialist doctor who diagnoses and treats rheumatic diseases. They are autoimmune conditions affecting joints, bones and muscles.
Some of the most common problems a rheumatologist can treat include gout, rheumatoid arthritis, psoriatic arthritis, lupus, osteoarthritis and more.
Chiropractors
These doctors diagnose and treat patients suffering from problems related to the musculoskeletal system and treat the effects of the problems on general health. Some chiropractors specifically deal with the spinal conditions.
Radiologist
A radiologist is a health professional specialized at diagnosis and treatment of various conditions using imaging tests. They can perform, read and interpret scans like MRIs, ultrasound, CT scans, X-rays and more.
Radiologists can be one of the three types – diagnostic, interventional and oncologists.
Nephrologist
A nephrologist in the specialist who focuses on treating conditions affecting the kidneys and taking overall care of the organ.
These professionals can treat conditions like kidney stones, kidney failure, diabetes, hypertension, lupus and other kidney diseases.
Nephrologists are also trained in areas like dialysis and kidney transplants. They may also be specialized in internal medicine or paediatrics.
Endocrinologist
Specialized at treating different conditions and disorders affecting the endocrine system in the body, an endocrinologist should be consulted when you experience hormone-related health conditions.
The endocrine system is made up of different glands that create and release hormones inside the body.
Endocrinologists treat various conditions including thyroid, diabetes, infertility, hormonal imbalances, adrenal gland disorders and growth issues in kids. An endocrinologist is also trained in paediatrics or internal medicine.
Surgical Practitioners
A surgical practitioner is a healthcare professional specialized at planning and delivering services related to operation including preoperative care, surgery, anaesthetic and recovery functions.
Here are the primary types of surgical practitioners you can consider based on your operative requirements.
General Surgeons
General surgeons can be consulted for any surgical procedure on body organs or systems. They can help treat a medical condition through surgical treatment.
They are trained in diseases involving gastrointestinal system, breast, abdomen, skin and endocrine system. A general surgeon is also responsible for health care before and after the surgery.
Orthopedic Surgeons
An orthopaedic surgeon is a health professional that specializes in conditions and ailments related to bones, ligaments, muscles, joints and tendons.
These surgeons can treat broken bones, arthritis, bone tumors, osteoporosis, sports injuries, back pain and other complications of bones and joints.
Cardiac Surgeons
Specialized at heart surgeries, these surgeons work with cardiologists to identify the surgical requirements in patients. They are focused at helping people suffering from cardiovascular problems like heart attack, artery blockages and more.
Cardiac surgeons specialize at performing surgeries like placing stents in the heart and open heart surgeries. These professionals can help you when you are diagnosed with a cardiovascular condition that needs surgical treatment.
Plastic Surgeons
They are also called cosmetic surgeons and are specialized at repairing and rebuilding the face, skin or any part of the body. They are often approached for reconstructive surgeries to deal with deformations after injury or diseases.
Anaesthesiologists
These professionals focus on the patient's care before, during and after the surgery. Their tasks include giving pain medicines, anaesthesia and relaxation medication. Anaesthesiologists also monitor the person during operation to make sure all the body functions are stable.
This type of surgical practitioner also studies the reactions of anaesthetic medicines. They are also responsible for administering these medicines to different patients on the basis of their needs. They also work with the patient after operation to keep their pain under control.
Oral Health Professionals
Oral health professionals like dentists are aimed at helping you treat and prevent problems related to your oral health including gum diseases and tooth cavities.
These professionals can not only detect issues with your gums and teeth but also diagnose problems in the mouth which indicate some other underlying conditions like heart disease.
Most dentists practice privately while others work in dental hospitals, public dentistry or other services. They are qualified in dental science or dental surgery and licensed to operate.
Nurse
Registered nurses are not only found in hospitals. You can find trained nurses in doctor's offices for various functions such as performing blood sugar tests, checking blood pressure and collecting blood.
Nurses often work closely with patients and their role is quite significant in the recovery phase. They take care of the patients and are always there when something goes wrong. They have different qualification levels, experiences and expertise.
Then there are advanced practice nurses who possess additional qualifications apart from the course of registered nurse.
These nurses work in numerous settings and perform a variety of jobs including preventative care and primary care.
Midwives are a type of APN who are responsible for normal childbirth cases under the instruction of a physician. There are certified midwives who perform a similar service at registered healthcare centres.
Pharmacist
This type of health professionals study medicine for a long time and learn about medicines, chemicals, toxins, effects and side effects. They give medications to patients as prescribed by the doctors for specific medical conditions.
Pharmacists also advise on over-the-counter medication to help people treat certain medical conditions. They also work with the doctors about medicine combinations to avoid side effects in patients.
Allied Health Professionals
These health professionals are trained graduates who generally help people during their recovery phases after injuries, illnesses and surgeries. They are also responsible for managing chronic conditions and maintaining well-being.
Depending on the type of speciality, allied health professionals can be found in community health centres, hospitals and private clinics. Here are the most common subtypes of allied health professionals.
Dieticians
A dietician or nutritionist is trained to give advice about healthy eating. They are licensed health professionals who can assess, diagnose and treat problems related to nutrition and diet in an individual. They work at private clinics and community centres and can help sick as well as healthy people.
You can approach a dietician if you suffer from a chronic condition like cardiovascular disease, diabetes or blood pressure, you want to lose or gain weight, your child has some nutritional deficiency, you have some intolerance to food or you want advice on eating disorders.
Physiotherapists
A physical therapist is a licensed and trained health care professional focused at various types of services. They work with people of all ages and levels. They may be approached for a variety of situations.
A physiotherapist can help you more than once in your lifetime and for different conditions. They can help you get relief from pain, regain mobility, restore normal capabilities and cope with limb loss.
Speech Pathologists
These professionals work with people of all ages from babies to adults and their job is to treat problems with communication. These doctors can be found at hospitals, schools, rehab centres, private clinics and community centres.
Speech pathologists can treat swallowing disorders, cognitive communication disorders, language and speech related problems in children as well as grown-ups.
Psychologists
These professionals work in clinics, hospitals and counselling centres and provide individual, group or family psychotherapy. They are also responsible for design and implementation of behaviour modification programs.
Podiatrists
A podiatrist is specialized at diagnosing and treating various conditions of the leg, foot, ankle and surrounding areas.
They are trained to take care of these body parts. You can consult them for a wide range of conditions from diabetic infection to toenail fungus and bone loss.
If you are troubled by a condition affecting your feet, ankle or legs, your GP can refer you to these specialists. They can even perform surgeries and take reconstructive methods when necessary.
Complementary Medicine Practitioners
Alternative medicine or complementary medicine is often used by people to deal with chronic conditions.
It comprises vitamins, herbs, homeopathic products and therapies like acupuncture. Complementary medicine practitioners mostly work in private clinics.
Naturopathic doctors
Specialized at treating acute and chronic conditions through naturopathy, these doctors use vitamins, supplements, herbs and homeopathy medicines to help the body heal itself. They often advise on nutrition.
Acupuncturists
These professionals treat medical conditions by stimulating the pressure points in different parts of the body.
Acupuncturists often treat people by using finger or heat pressure or inserting tiny needles through the skin.
Best Fitness Tracker For Cycling – UPDATED 2020
We cover some of the best fitness trackers for cycling. Ranging from simple ones to more sophisticated, expensive devices that come packed with features.
The earliest fitness bands introduced a few years back counted just the calories and steps, but the makers soon realized that a massive market of fitness tracker for cycling was untapped. Here in this article, we will cover some of the best fitness trackers for cycling.
Fitness trackers have evolved greatly over time and their popularity has increased more than ever. The latest of these devices come with tons of features and functions aimed at the specific activity, and even though there have been plenty of questions raised on their accuracy, they are considered an essential for most fitness junkies.
The Best Fitness Tracker For Cycling – What You Should Know?
The best fitness trackers for cycling are those that offer the basic cycling stats. The market is full of activity trackers ranging from simple ones to more sophisticated, expensive devices that come packed with all the advanced features.
In short, there is a fitness tracker for every cyclist, however, varied his requirements or budget is.
Today, we look at some of the best choices for fitness trackers that cyclists can choose from to get the most out of their sport.
Polar V800
Though launched six years back, Polar V800 remains the go-to fitness tracker for cyclists, runners and other sports enthusiasts. It is a rugged GPS-enabled watch that supports multiple sports, has an excellent battery life and a number of smart coaching modes.
It looks great and can be worn anywhere and is capable of tracking whatever you do. You can also use it in the shower or pool.
The display is tough, easy to view and responsive. There is a backlight to allow viewing during night time activities. It has a stainless steel body and rubber strap for durability.
The textured finish on the buttons makes sure you can use it well even when your fingers are sweaty. The device offers smart coaching features to help create personalized routines based on the distance you want to cover.
The GPS tracker is pretty accurate and keeps track of the distance you have covered, the speed you are moving with and the routes you take.
It comes packed with a powerful battery that lasts for up to 13 hours with GPS and 50 hours in low power mode. It is overall a great choice for cyclists who want to stay on the top of their activity tracking.
Garmin Vivosport
This basic, simple-design fitness tracker is a great choice for cyclists. It loads all the essential functions in a slim design to provide accurate, reliable route tracking. It comes with GPS and tracking features to monitor workout, heart rate, sleep, calories burned and stress level.
What makes it ideal for modern users is the all-day stress tracking feature that helps stay updated on the body's response to stress sources.
Garmin Vivosport boasts a slim, thin, sporty design that suits all-day use and complements any outfit. It comes with an always-on Chroma display colour touchscreen that is bright and responsive to view clearly outdoors. It comes in two size options and three trendy colour combinations to choose from.
Once you connect the device to your phone, you can control music, get emails, app notifications and text messages and enjoy many handy features right on your wrist.
The device supports auto sync so all your activities are uploaded automatically to Garmin Connect. You can share and compete with other cyclists and active users on this online community. You can let your friends follow your activities with the LiveTrack feature.
Fitbit Charge 4
One of the latest models from Fitbit, the Charge 4 has a built-in GPS functionality to let cyclists see the distance covered and pace right on the screen during the ride. It also shows the workout intensity map and helps you see how your heart rate changes along your ride. There is a new feature called 'Active Zone Minutes' that sends you a notification when the target heart rate is reached.
The device has a small touchscreen which is quite responsive to touch on dry as well as wet hands. It has a waterproof design and can withstand sweating and some rain splashes when you are cycling.
The battery lasts for up to 7 days and for up to 5 hours when using GPS. However, some users report that the battery life is shorter when used actively on a regular basis.
Fitbit Charge 4 comes with a 90-day free trial of Fitbit Premium that helps you monitor fitness parameters and make the most out of your active lifestyle.
It offers a continuous heart rate monitoring and the measure of calories burned. It can also play your favourite songs and get notifications for texts, calls and apps from your phone.
Willful Fitness Tracker
This is a pocket-friendly fitness tracker that takes care of basic cycling tracking requirements. The Willful tracker comes with 14 exercise modes that include running, walking, basketball, cycling, yoga, dancing and more. You can connect the device to your smartphone and start tracking your outdoor route in the app that comes for free.
This fitness tracker also covers useful features like 24/7 heart rate monitoring as well as sleep tracking to stay on the top of your health. It has a waterproof design so you can wear it even in the pool and shower. It gets you all the notifications from your phone and can even control the camera. It has a battery life of up to 7-10 days.
However, it should be noted that the tracker does not come with built-in GPS and requires connecting to the smartphone to be able to track routes.
Fitbit Ionic
The first Fitbit model to incorporate GPS tracking, Ionic is an ideal choice for cyclists. The integrated GPS functionality with GLONASS allows seeing distance, pace and other important stats right on the display while recording the split times, elevation and route map. It also functions as a smartwatch and delivers you access to music, text and call notifications and payments.
Fitbit Ionic features a big watch face with metallic accents and bright display, making the tracker suitable for all-day wearing. You can use it for dynamic personal coaching to get on-screen guidance on your moves along with routines that suit your activities.
This feature feels like having a personal trainer always with you. It also plays and stores more than 300 songs right from your wrist. It also lets you create playlists and access Pandora stations.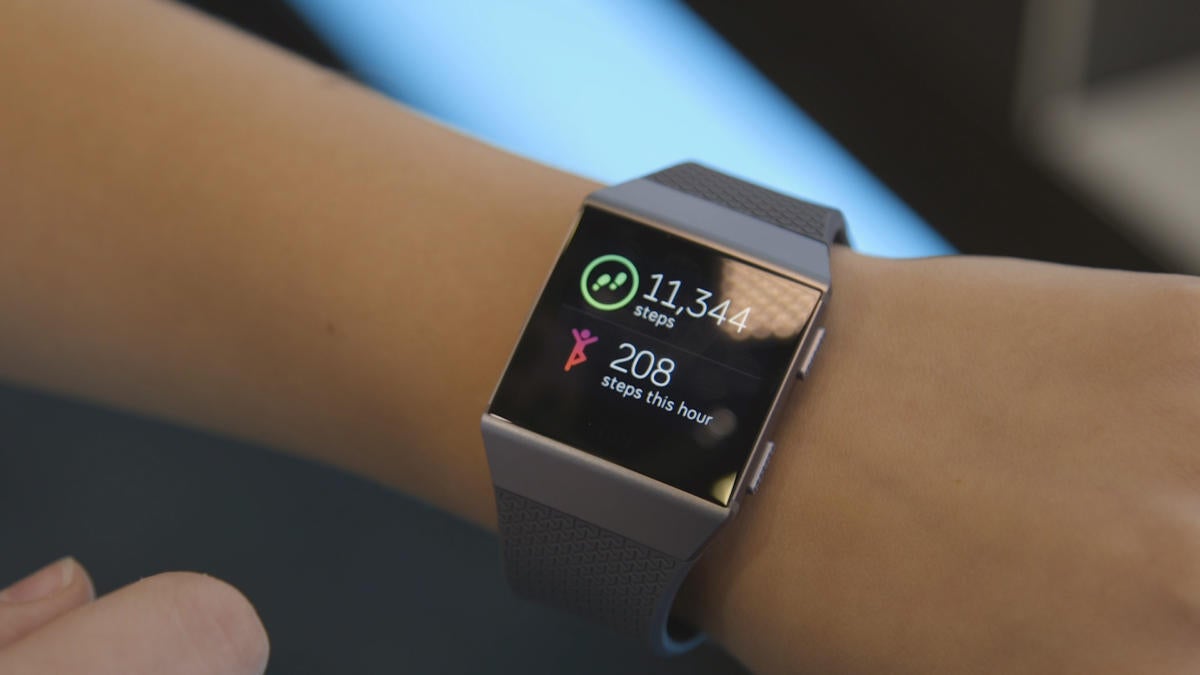 The 24/7 heart rate monitoring lets you stay on the top of your health trends over time. The personalized cardio fitness score would give you a better idea of your fitness level and help you understand how you can improve.
The signature dual-tone sport band with Adidas-designed clock face makes a stylish fitness tracker that you can wear all day.
Conclusion
While there are numerous fitness trackers ideal for cycling, it is important to look for the right combination of battery life, display, water-resistance and reliable GPS to get a device that suits your needs.
Some of the best fitness trackers help cyclists monitor their activity level and heart rate and help them track where they are and where they are going. We hope this guide to the best fitness trackers help cyclists choose the perfect companion for your fitness goals.